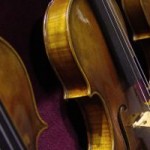 We went to the Buffalo Philharmonic Orchestra's Holiday Pops concert Friday night with some other friends. I really look forward to this concert every year. As per usual, they did not disappoint us. The concert was excellent. It really gets you into the Christmas mood.
We had some outstanding prime rib at Salvatore's original restaurant prior to the concert. The meal was fantastic and prepared perfectly. We also had a really nice bottle of Conn Cabernet Sauvignon from 2005. It is a Napa Valley Cabernet. I would recommend it to anyone who likes a full bodied Cabernet. This wine was really much better than we expected.
This year at the holiday concert we got seats close to the front. We sat closer than ever which was really cool. It is neat to see the violinists up close. JoAnn Falletta put together a great show that ended with a standing ovation. We got to see a special appearance by John Stevens who is the kid from East Amherst that made it quite far on American Idol. The guy has a great voice. I wish he would embrace the classic crooner style of Frank Sinatra and Bing Crosby a little more. I think he would sell a lot more Christmas compact disks if he would just sing the songs the same way that those predecessors did. Nonetheless, his singing is top notch. He is just a bit too Jazzy for me.
There was also a gorgeous female singer there named Michele Ragusa. She is an absolutely lovely performer. We enjoyed her appearances very much. It is amazing how many high quality singers we get to see at these Holiday pops concerts.
If you have never been to one of these Holiday Pops concerts by the BPO, I strongly suggest you attend one. They are a terrific way to spend a classy night out with good friends. You won't regret it. Whether or not Marvin Hamlisch is conducting, the show is always great. It has become a regular family tradition for us. We will continue attending the show every year so long as they keep giving this kind of outstanding performance.